Mojave Desert History - Pioneer of the Mojave
Toll Road through the Cajon Pass
A Second Tollhouse Becomes Necessary
John Brown's daughter, Louisa, who married San Bernardino attorney Byron Waters, recalled some of the events that took place in Cajon Pass in a story she wrote for a magazine article many decades later. She said her father's principal duties were to collect tolls, keep the road in good repair, and keep an eye out for hostile Indians.

Early on it was discovered that some cattlemen were avoiding the toll by skirting the tollhouse in the upper narrows. This was simple enough to do by merely going through the west Cajon valley over Sanford's road, which connected to Brown's turnpike below the tollhouse. Louisa wrote that the solution to the problem was the construction of another tollhouse at the lower narrows.

Based on statements in the judge's instructions to the jury in Driggers v Lane, the lower tollhouse was put in place three or four years after the road was built. Thanks to a July 1864 trip to the Arizona mines by celebrated chemist and metallurgist Benjamin Silliman, Jr., the date can be even further pinpointed. Silliman wrote a report of his journey, in which he mentioned the new tollgate:
An adventurous pioneer on the outskirts of civilization has erected a toll gate just before entering the Cajon Pass, where he exacts a fee of all passers in return for some labor bestowed upon the road at that point; this 'black mail' is cheerfully paid to the self-constituted supervisor.
Louisa does not mention the names of the cattlemen who avoided the toll, but the revenue lost from Lane's few livestock, or that of any other single Mojave dweller at that time, was not enough to warrant constructing and manning a new station. The one exception might have been the Parrish ranch in Summit Valley, but it is more likely that the source was the herds of "foreign" stock, such as those brought by J. E. Pleasants and others from the Los Angeles area.

Pleasants, in fact, admits that on his trip in 1864, the drovers took the wagons "through the toll gates, but took the stock up the canyon, not having to go through the gate." Brown's loss in this one incident was $150 (five cents times 3,000 head of cattle), which makes Pleasants' cattle drive the prime candidate for the reason the tollhouse was constructed at the lower narrows -- and the dates jibe.

< Previous - Next >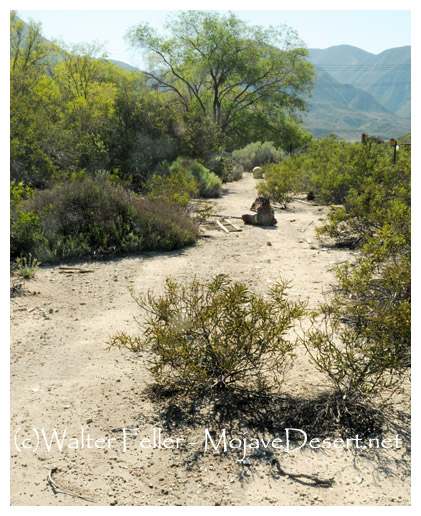 Toll road


AbeBooks Search