Mining History:
San Bernardino County Mining History:
BAGDAD AREA
The Bagdad area lies in the heart of San Bernardino County, roughly bordered on the north by Interstate 40, the east by the Parker Branch of the Santa Fe Railroad and stretching as far west as Ludlow. Mining does not seem to have flourished here until 1898, with the discovery of the Baghdad-Chase Mine, the biggest gold producer in the county. However, gold-copper ore was discovered one year earlier at the Orange Blossom Mine.
Baghdad-Chase

About 1898 John Suter, a roadmaster for the Santa Fe, headed into the hills south of Ludlow looking for water. Instead of water, he discovered gold, and ...

Orange Blossom Mine

In 1897 a Chemehuevi Indian named Hikorum discovered ore north of Amboy. Hikorum , "a prominent man among his people, a great hunter of mountain sheep," was also ...

Gold Belt Mine

The Great Gold Belt Mine, 14 miles northeast of Amboy, was quite a discovery. When stumbled upon in 1907, the remains of old ...

Clipper Mountains

Some mining was going on in the Clipper Mountains in January, 1913, and when large gold-bearing quartz veins were discovered ...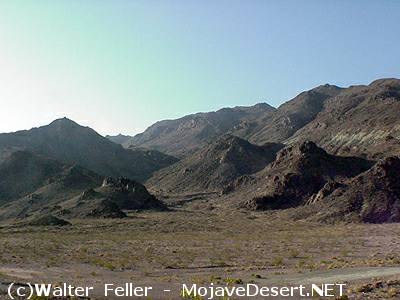 The Baghdad area near Ragtown

Also see: