Death Valley Chuck-Walla
The Chuck-Walla Speaks
The Chuck-Walla is born of the desert, where the mountains dip into Death Valley ; where vegetation ceases to grow; where the land is made of sand and borax the Chuck-Walla lives and flourishes. The heat-baked rocks of the Funeral range, the ledges of ore and malapi, the sagebrush and greasewood all contribute to its existence. Among these elements the Chuck-Walla is at home. It is a part of the desert, always has been and will continue to be while the rocks last and the sun shines.

This is a tip on the 'low down. Don't be an Indian. Don't try to dislodge the animal. A pull and a copper wire won't do the work. The Chuck-Walla has a purpose. It may seem that its chief business in life is to bask in the sun, catching flies the while, or scratching a hole in the sand to expose a new vein of copper. If so, that's the Chuck-Walla's concern just so it catches the flies successfully and scratches with energy at the hidden lodes.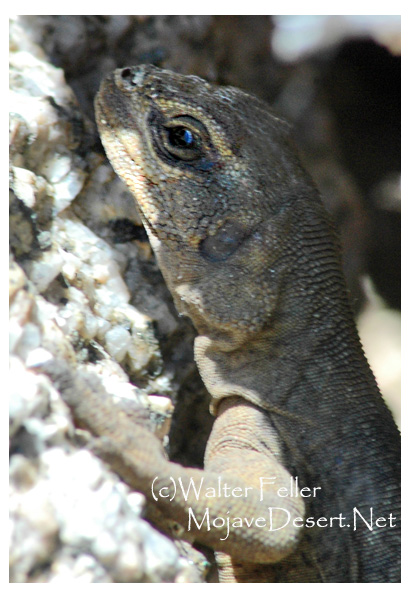 Like other creatures of the desert the Chuck-Walla is guided entirely by instinct. It does what it lists and what to it seems right, making no apologies, giving no accounting, except to its Creator, never lifting its tail to wave as a signjj of distress. It fights its own battles in its own way. It is no hypocrite. It may amuse the initiated and startle the uninitiated, but once it has taken its stand it cannot be changed. The size, power or dignity of its tormentor will carry no weight. If necessary, the Chuck- Walla will bite, and this bite is not pleasant. But withal the Chuck-Walla loves to bask in the sun and live a life of peace. Watch" it in its wallow, leave it unmolested, be amused by its weird and surprising antics, and let it go at that, if you are wise.